Members pictured above fill duffle bags at the GFWC Montana Fall Meeting.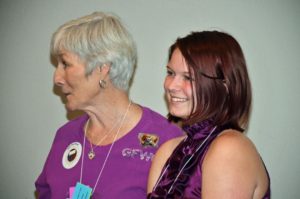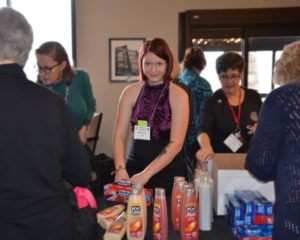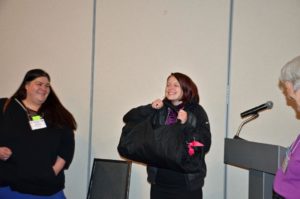 Joyce DeCunzo introduces the Saturday guest speaker, Jazmyn.
Jazmyn is pictured stuffing duffle bags and receiving the first bag distributed.
Click Here: Duffle bag contents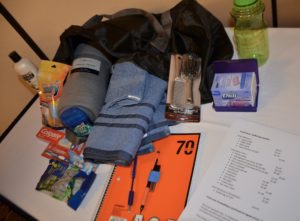 President's Project YouthEquip's goal is to fill 200 duffle bags with necessary items for the youth, such as personal hygiene items, a blanket, a water bottle, towels and other things.  They will have a duffle bag to carry their belongings, not a trash bag.
Partners in this project include Intermountain Children's Home and The Department of Health and Human Services.
Intermountain Children's Home will develop physical and mental health information to be placed in each duffle bag.  They will provide training about the needs of children who have suffered trauma in their lives.  You won't want to miss this presentation at our October meeting.
The Department of Health and Human Services will provide space for the bags to be stored and will distribute them to youth as they prepare to leave foster care.  Staff from this agency will also be at our October meeting to tell us about the needs of foster youth leaving the system.
Did you know that, at age 18, these kids are no longer eligible for foster care and must go out on their own?  Some are ready, some are not.  Age 18 and just recently graduated high school, many of these youth have no support system in the community.  Some have an opportunity to continue their education, some are able to get jobs, some become homeless, surfing from one friend's place to another.  When they leave their foster homes, many have their few belongings in a black plastic trash sack.
Contact Toni Scully and Kim Montag for lists of duffle bag contents.
Toni Scully – email is acscully406@gmail.com
Kim Montag – email is kmontag@3rivers.net